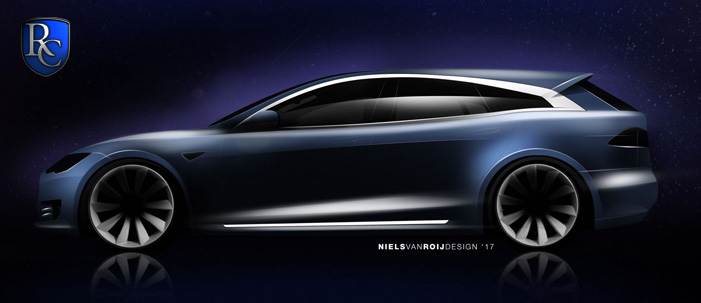 PRESS RELEASE

DUTCH TEAM BUILDS ELECTRIC SHOOTING BRAKE

-Bold, expressive design
-Based on extensive design research
-Launch planned for 1st week of March 2018

The Dutch coach building and design team working on the full electric Shooting Brake reveals more details on the design of the car, based on the Tesla Model S. Designer Niels van Roij explains the strategy behind this one-off car. "Design is the most important reason for purchase globally - regardless of the purchase price, gender or age of the buyer", Van Roij says. "So, we've invested a lot of time in the design process of our Shooting Brake. We started with writing the design strategy, after which the design research was initiated, then sketching began. The aesthetics of this conversion have been developed thoroughly by producing 3 design propositions, within which 16 different design themes were generated. Our research focused on benchmarking high end performance station cars, one-off vehicles and market trends."

"Based on this extensive design research, we developed the brand DNA for the Shooting Brake. The conversion merges seamlessly with the Tesla base vehicle, whilst clearly communicating though form, design language and materials that this is a tailor-made Shooting Brake." According to Van Roij, the essential elements of the theme that was chosen are its dynamic, bold profile with continuously flowing lines. "And of course we added a completely new sculpted rear-end, keeping the shoulders of the car alive, thus ensuring a bold stance."

Van Roij and his team are especially proud of the maximum amount of character they have been able to add to the car, applying pronounced new graphics on the vehicle. By means of sight lines, each graphic is interconnected whilst kick-ups in the glass areas increase the feeling of solidity. The confident chrome strip surrounding the side windows gives the car an expressive Shooting Brake design. The dynamic chrome profile adds visual length and reduces the extra optical mass a station car brings, with its extended roof line. The result of these solutions is a conversion that is very sculptural. "A unique expression only possible to achieve by coach-building", according to Van Roij.

6 December, 2017

For more information, please contact Huib de Vries:
huib@nielsvanroij.nl
+31653330476

Pagina →